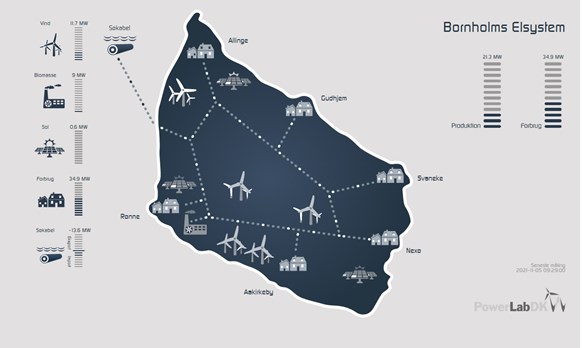 Projects done
In the first ten years we've gained a lot of experience and knowledge, establishing a lot of network and cooperations. The estimated value of all the projects is 100 mio. euro.


ACES
How to solve the technological challenges triggered by a huge number of electric cars?  Is it possible to obtain both technical and economical gains integrating electric cars in a more intelligent way?

Download final report (DTU)(uk)(pdf)


Read more (dk)

______________


BedreBolig Bornholm
Inspire and assist local homeowners in sustainable renovation; educating craftsmen in renovating and building substainably; breaking down barrierers in the financial system; showcasing the most succesfull examples.

Read more (dk)

______________

Cool Heating
Support implementation of small district heating and district cooling systems based on renewable energy in coomunities in Southeastern Europe.

https://www.coolheating.eu/

Read more (dk)

______________

Demands as a Frequency Response
The project was contributing to the national danish strategy securing a dynamic and flexible electrical power network with wind as energy source. 

Read more (dk)

Report. Danish Technical University of Denmark (pdf)


______________


EcoGrid EU
Cooperation with more than 2.000 local customers; is it possible to move power consumption timewise implementing a flexible power price.

Read more (dk)

http://www.eu-ecogrid.net/

______________


EcoGrid 2.0
Is it possible to increase or decrease the demand for power in order to optimize the fluctations of renewable energy - without the homeowners are forced to change their habits, their way of live.


Download EcoGrid 2.0 Main Results and Findings (uk)(pdf)

www.ecogrid.dk

Read more (dk)

______________
EDISON
The aim was to create a danish platform developing system solutions and techonolgies integrating electric cars in the danish power grid. 


Report: Electric vehicles in future market models. (pdf)

Report: Introducing electric vehicles into the current electricity markets. (pdf)

Read more (dk)

______________

IDE4L- Ideal Grid For All 
Developing and testing the future powergrid challenged by wind turbines, solar panels, heating pumps, electric cars...


Read more (dk)

______________

IUFE
Establishing a concept for information and education on Bornholm in order to increase end users active participation in the electricity market.


Download Final report (pdf)

Read more (dk)

______________

PVIB- Photo Voltaic Island Bornholm
Aim: Establishing 5 MW solar panel capacity on Bornholm.

Read more (dk)

______________

PVNET- Photo Voltaic NET
Examination of how to increase numbers of solar panels in the present danish power grid.
Download final report (uk)(pdf)

Read more (dk)

______________

PVTP Projektet
How to bridge the possibilities in solar panel technology with grid companys need for system support.

Read more (dk)

______________

Solar Smart System Bornholm
Is it possible to heat up the local airport using solar panels producing both power, heat and cooling. The project is trying to create green solutions for households or businesses outside the range of district heating systems.

Download faktaark (dk)

______________

STEP
Projektets overordnede formål er øget brug af grønne teknologier med henblik på at mindske forureningen i det sydbaltiske område.

Read more (dk)

Download faktaark (dk)


______________

VPILN
Heat pumps in low voltage grid; identifying challenges and possibilities for danish grid compainies introducing a large share of heat pumps.

Download finalreport here (uk)(pdf)

Read more (dk)

______________

Wirescan
Testing cables in operation in order to generate new knowledge.

Read more (dk)